This past Wednesday, we completed our "pre-drywall" inspection with our home inspectors at Waypoint Property Inspection as well as our "pre-drywall" meeting with our Homes by West Bay Construction Manager, Steven Blevins, and our Starkey Ranch Real Estate Agents, Annie Rocks, and Kevin Rocks of The Rocks Team. Our Key West II in Anclote Reserve at Starkey Ranch is coming along nicely. We've hit a few minor bumps on the road, but between Steven and Annie and Kevin Rocks, we're headed in the right direction.
This was our first time in a while to get access to the interior of the home. For safety and liability reasons, Homes by West Bay does not allow you to enter the construction site while the house is being built, unless you are with an employee of the company. Since everyone was there today, we took the opportunity to take a few hundred pictures and if you're going to build, we would suggest you do the same. This gives us the ability to look back and find where and how certain elements of the home were constructed and can help significantly with future projects on the home.
Now that the inspections are complete, they will start working on insulating the interior of the home (the concrete block has already been filled with insulating foam) and then drywall. Steven advised it takes 7-10 days for the drywall to be fully installed. After that, all of the interior work will commence. We hope to be able to get some pictures as they make additional progress.
Here are the pictures that we wanted to share. Click on the image to view the full-size image.
Exterior – Front of the Key West II in Anclote Reserve at Starkey Ranch
Interior – Inside the Key West II in Anclote Reserve at Starkey Ranch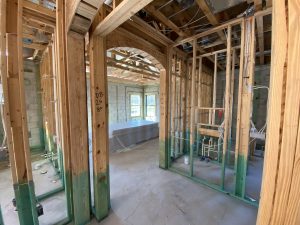 Exterior – Outside of our Key West II Home in Anclote Reserve